Changing Lives through Healthy Smiles
Every person that enters my chair is important to me and I will ensure they receive the highest quality dental care. I feel fortunate and humbled to be entrusted with my patients' smiles and take that responsibility seriously. By taking time to listen to my patients, and asking them about their concerns, I'm able to identify the treatment options that are right for their needs. I make sure each patient understands their care options, so they can make the best possible decision for their smile health.
I enjoy practicing all aspects of dentistry. The most exciting part of my job is seeing a change in a person's confidence and demeanor by getting them out of pain, restoring function, or improving their smile.
I love working with entire families to improve their oral health, and enjoy listening to my patients talk about their lives. Practicing in a smaller community allows me to build a lasting rapport with my patients, which is something I truly appreciate!
Education and Commitment to Continuing Education
I attended the University of Nebraska Medical Center-College of Dentistry, where I was awarded my Doctorate of Dental Surgery. I received an excellent education and graduated with a strong understanding of the fundamentals of dentistry. However, the dental field is constantly changing. New treatments and materials, as well as innovative technologies, all make for a better care experience and results for patients.
As a dentist, it's my responsibility to my patients to provide them with the best care possible. In order to do so, I must be current on developments. By participating in continuing education, I am constantly learning, expanding my knowledge and honing my skills.
I'm an active member of the American Dental Association and Nebraska Dental Association. Each month I pour over their journals and other publications, reading about the latest research findings and newest procedures.
Personal Life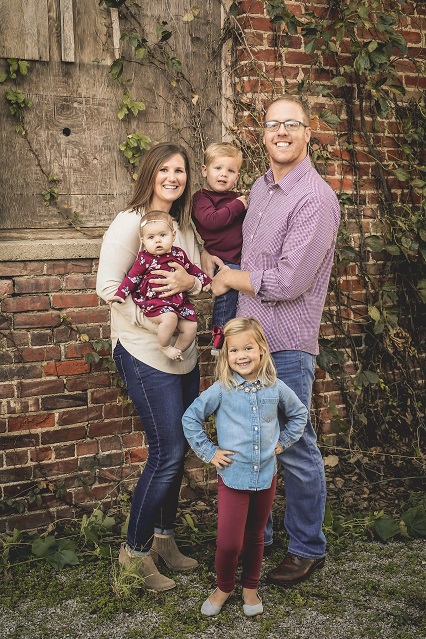 I was raised here in Beatrice and moved back in June 2015. My husband Andrew and I have three children: Ella, Samuel and our newest addition Lauren.
When I'm not working, you can find me with family and friends. In moving back to our hometown, we are very fortunate to live near our families and have a great group of friends to reconnect with.
Andrew and I are members of St. Joseph's Catholic Church.