A Passion for My Patients' Healthy Smiles
After practicing dentistry for more than 20 years, I feel that many of my patients have become members of my extended family. I've watched their kids grow up and now see some of their grandkids here in the office. My conversations with my patients, and being included in their lives, is very rewarding.
I started practicing in 1998 and bought the practice from Dr. Ken Laughlin, who was an excellent dentist. Dr. Laughlin stayed with me for about six months and then retired to sail the Gulf of Mexico.
I chose the dental field partly because my mother was a dental assistant so I grew up knowing about the profession. I was also drawn to dentistry because I enjoy how every patient and every mouth is different. Very seldom do I have a day when I do the same thing over and over. Each patient's needs and treatment is new and presents its own challenges. That keeps my mind active and engaged.
Education and Commitment to Continuing Education
My Doctorate of Dental Surgery was awarded by the University of Nebraska-College of Dentistry. That education provided me with a great foundation. However, dentistry is a constantly evolving field. In order to provide my patients with the best possible treatment and results, I need to remain current on developments.
I make it a priority to take multiple continuing dental education courses throughout the year: locally, regionally, and nationally. This allows me to learn from the leaders in our field and stay up-to-date on the latest technology and techniques.
I'm an active member of the American Dental Association, Nebraska Dental Association, and the Academy of CEREC®. Professional organizations allow me to learn from and with my peers. Their publications offer access to the latest research findings and discussion of various treatments.
I believe it is my duty to my patients to provide them with the highest quality of dentistry. In order to do that, I have to use the latest technological advances and techniques to provide them with the level of care they deserve. Continuing education ensures I'm able to exceed patients' expectations.
Personal Life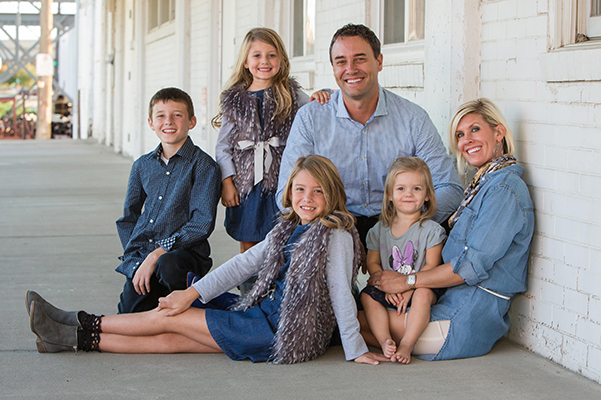 I grew up right here in Beatrice. My wife Amy and I have been married for 15 years. We have four young children: Connor, Natalie, Nicole, and Ashley. As you might well imagine, they keep Amy and I on our toes! I enjoy coaching my kids in the sports they love. We all enjoy Husker Football games, too.
Our family is active in our church and I'm a Rotary member, as well. When I can find the time, you'll find me fitting in a round or two of golf.